We've curated a selection of three extraordinary gifts that are sure to delight you while staying within a budget of £30. Whether you're searching for a memorable gift for a loved one or a little something special for yourself, our handpicked selection is guaranteed to bring joy without stretching your wallet.
Oliver Bonas:
Lucille Ceramic Watering Can – £26
Attention plant enthusiasts, behold this exquisite ceramic watering can adorned with a captivating leaf design in a rich shade of deep blue. Its intricate border in a delicate lilac hue adds an extra touch of elegance. The eye-catching yellow handle and spout create a stunning contrast, making this watering can a remarkable and standout addition to your collection of plant accessories.
This would make a beautiful gift for any plant parent and only costs £26! Also when placing an order from Oliver Bonas, you have the option to click and collect.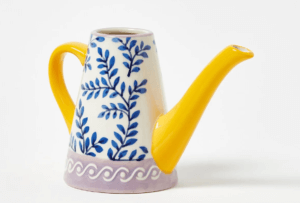 Blooms London:
Classic Subscription – £25
Experience the Beauty of Our Classic Subscription: Unveiling Elegance in Floral Form
Indulge in the allure of nature with our Classic Subscription, available at an affordable price of only £25. Immerse yourself in the world of beauty and elegance as our dedicated Blooms team curates a captivating selection of unique blooms. Delight in the ever-changing variety as our collection rotates on a weekly basis, ensuring a fresh and exciting experience each time.
Treating your loved one to a Classic Subscription means their home will be transformed into a haven of seasonal beauty. The Blooms team carefully selects a vibrant array of flowers, ensuring that your space is filled with the magnificent colours, scents, and textures that nature has to offer.
Allow the Classic Subscription to bring the wonders of nature into your life, inspiring awe and admiration with every delivery.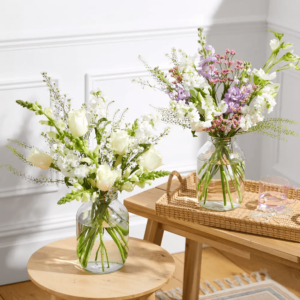 Scribbler:
Calling all Harry fans – £12
We are sorry that HSLOT has just come to an end, but Scribbler has got the gift for you.
Featuring a delightful design, this cute mug showcases Harry's iconic lyrics alongside whimsical illustrations of strawberries and the man himself. It's a timeless piece that will never go out of style, making it a cherished addition to any Harry fan's collection. This gorgeous ceramic mug is not just any ordinary drinking vessel. It's meticulously crafted with attention to detail, ensuring a high-quality product that you can enjoy for years to come.
With its cleverly illustrated design, this mug captures the essence of Harry's captivating lyrics and his irresistible charm. It's a little piece of Harry's world that you can savour with every drink.