Boo! Halloween is just around the corner and we're rushing to Hotel Chocolat for some spooktacular treats this October!
Dive into their Halloween gifts collection, where you'll discover a tantalising array of goodies, from velvety milk to the rich intensity of 70% cacao chocolate. These treats are bound to keep you in the spooky spirit while you're out trick-or-treating!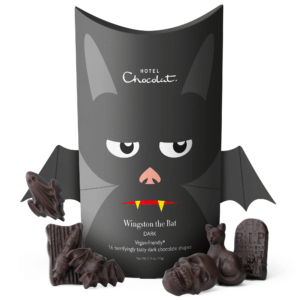 Wingston the Bat | Dark Chocolate – £8.95
16 terrifyingly tasty dark chocolate shapes to keep the ghouls at bay.
Wingston's sensitive ears mean he'll be able to echolocate his way straight into your shopping bag – but keep away from those teeth! He's got a good heart though; inside you'll find 16 individually wrapped dark chocolates, moulded into satisfyingly spooky shapes.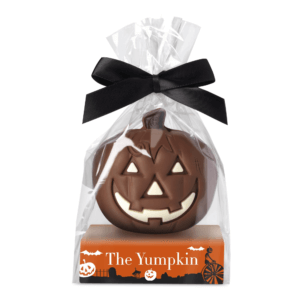 The Yumpkin | 40% Milk Chocolate Pumpkin – £6.50
The face of Halloween, carved in meltingly smooth 40% milk chocolate.
Not in the mood for pumpkin carving this year? Put down the carving knife and swap the laborious, time-consuming and inevitably messy task for a hauntingly good chocolate version instead. Easier and yummier – what's not to like?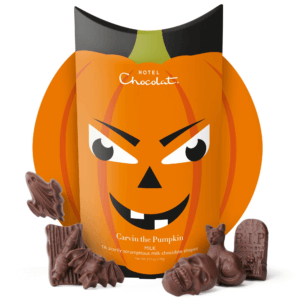 Carvin the Pumpkin | Milk Chocolate – £8.95
16 ghoulishly good individually-wrapped milk chocolates, perfect for when vampires, ghosts and witches come to call.
Our very own pumpkin, Carvin has kept 16 devilishly delicious individually wrapped milk chocolates in hiding, ready to share with some tricksters in need of a treat. Don't be put off by his wicked grin – we promise he doesn't bite.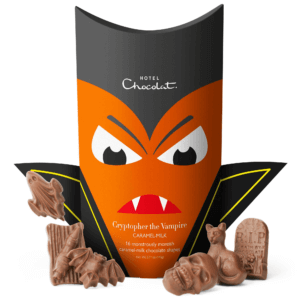 Cryptopher the Vampire | Caramel Milk Chocolate – £8.95
16 individually wrapped solid caramel milk chocolate to sink your teeth into.
He may look scary, but Cryptopher just wants to make sure that nobody steals all the chocolates before you can have a bite! Our vampire friend uses his needle-like teeth and his spectacular collar (it pops out!) to scare off any would-be chocolate hunters, but he's a soft touch really.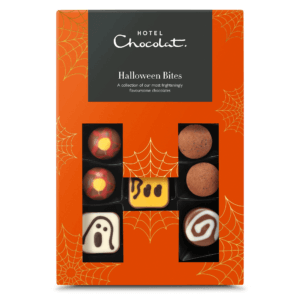 Halloween H-Box – £15.45
14 frighteningly flavoursome chocolates – dip in for caramels, pralines and more.
Our H-Boxes are designed to make you Happy – but this Halloween, it's a horrifying kind of happiness! Our classic chocolate box is filled to the brim with a mixture of our classics and our Halloween specialities.